Psychiatrists in Columbia, MO
Success Health System LLC has a top-rated psychiatrist and mental health doctor who specializes in psychiatric medication management, telepsychiatry, and treatment for anxiety, depression, OCD, substance use disorder, and more. We are accepting new patients, call us for more information or schedule an appointment online! We serve patients from Olathe KS, Columbia MO, West Plains MO, Harg MO, Prathers Ville MO, Midway MO, New Century KS, Olathe KS, Overland Park KS, Carson MO, Pomona MO, and Potters Ville MO.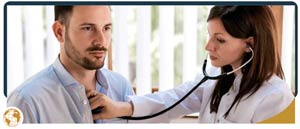 Many people struggle with stress or a mental health disorder like anxiety or depression, and many of these people should see a psychiatrist. If you believe your mental state is affecting your life, then you may want to see a psychiatrist yourself. We have a quality one for you here at Success Health System LLC. Connect with us today if you've been searching for Columbia, MO psychiatrists and would like to see one.
What does a psychiatrist do for patients?
Sometimes it's necessary to speak with a professional about your mental health, a problem in your life, or a related topic. For instance, you may need a professional's help if you've had a death in the family and are having trouble coping. There might be another matter you need help with like regular sadness or a phobia. A professional can help to address these matters and empower you to address them better too, and sometimes a professional's assistance is necessary, like with a mental health disorder. A psychiatrist is especially qualified to help with such matters.
Our psychiatrist at Success Health System LLC can help with:
Depression
Relationship/family problems
Anxiety disorders like OCD (obsessive-compulsive disorder) and others
A problem with substance use/abuse
Trouble coping with a recent event like a death in the family
Feelings of guilt, social isolation, hopelessness, helplessness, worthlessness, etc.
And other issues
Also, our psychiatrist can provide services like diagnoses, medication management, cognitive behavioral therapy, and much more.
How are psychiatrists and psychologists different?
The two professionals are quite similar, but with different qualifications and capabilities. A psychiatrist is board-certified and an MD who is able to prescribe medication when necessary and provide very high level mental healthcare like psychotherapy. A psychologist has only a PhD or PsyD degree and typically cannot prescribe medication.
Also, a psychologist may be able to provide psychotherapy, but it will be focused on behavior, as opposed to the psychotherapy a psychiatrist does which takes into account behavior, psychosocial history, neurochemistry, biology, and other factors. Additionally, a psychiatrist is able to determine whether a patient with depression may have an underlying condition causing it like hypothyroidism.
In general, a psychiatrist is able to provide a higher level of therapy.
What do I need to do so I can see a psychiatrist?
Typically, patients need a referral from a physician in order to see a psychiatrist, so you could speak with your primary care physician about getting a referral. Health insurers typically need a referral so they can cover the costs of psychological treatment. Success Health System LLC works with most major insurers and offers very affordable services.
Take your first step today and reach out to your doctor or our clinic for help. You don't have to take care of your problems and mental health on your own, and you'll almost certainly benefit from speaking with our psychiatrist.
Do you have Columbia, MO psychiatrists?
Yes. Success Health System LLC has a psychiatrist in Columbia, and his name is Dr. Moses Tabe Ambilichu MD. The doctor is board-certified by the American Board of Neurology and Psychiatry, so he is fully qualified to be your psychiatrist. You can learn all about Dr. Tabe Ambilichu on our Meet Our Providers page. Call our clinic at (573) 240-8976 to learn more, or request an appointment/consultation online if you want to see the doctor. We serve patients from Olathe KS, Columbia MO, West Plains MO, Harg MO, Prathers Ville MO, Midway MO, New Century KS, Olathe KS, Overland Park KS, Carson MO, Pomona MO, and Potters Ville MO.
Our clinic is located at 2804 Forum Blvd #4, Columbia, MO 65203, and we look forward to seeing you soon here at Success Health System LLC!